How common citizens turned into Wetland Champions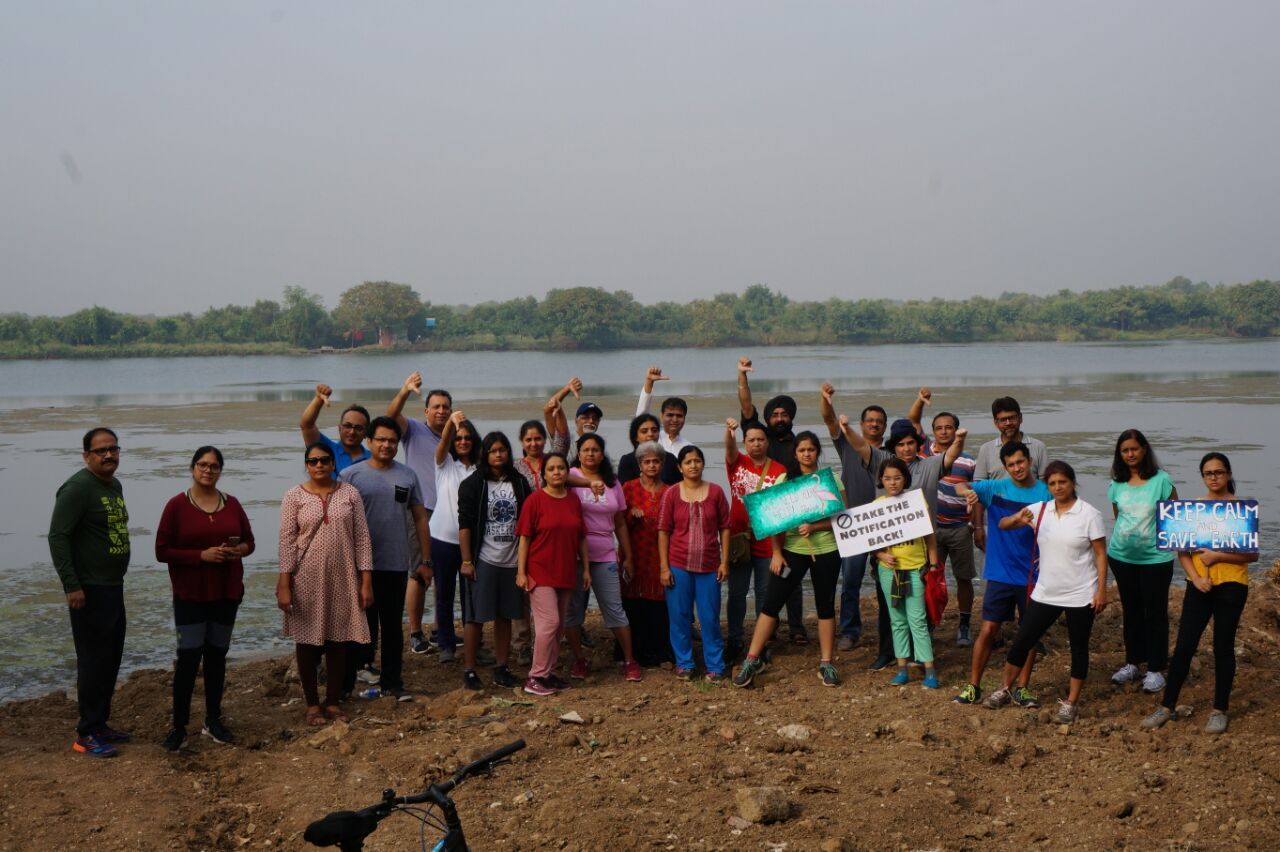 26 May 2021
I am a chartered accountant & My wife Shruti is a TV serial producer. We moved to Seawoods Navi Mumbai in 2014. We used to go for a round in trail in Mangroves & wetlands behind our complex. The area is rich in biodiversity with more than 80 bird species in this area. Lots of migratory birds including flamingos in thousands visit this area every year.
Once in April 2016 while taking a walk we saw some labourers cutting some mangroves inside the lake area under supervision of a contractor. We videographed them and when we asked them for permission etc. they ran away. This was a turning point for us. We filed FIR in Police station & also complained to the Mangroves committee.
We decided to form a group of local citizens to spread awareness of Mangroves help line number 1926 etc. We founded Save Navi Mumbai Environment and started creating awareness on social media, made whatsapp groups, started organizing awareness drives, nature trail, photography competition, painting completion etc.
In October 2017 suddenly a builder came with a huge JCB machines and started cutting trees, mangroves and started dumping on these wetlands. We immediately started protesting and asking for permissions etc. we complained to various authorities including local police , mangroves committee etc. We also came to know of a wetland committee formed under Bombay high court order for protection of wetlands. Our group members took pictures & videos of destruction and dumping on wetlands. The FIR was filed for cutting of 55 trees & wetlands committee also stopped the work.
Our victory was covered by various media & we decided to devote more time to creating awareness . We also organized World Wetland Day in Feb 2018 by conducting various activities like human chain, chalk drawing, nature trail, environmental pledge etc. The work was stopped but debris dumped were not being removed.
We decided to approach Bombay High court and with the help of our Lawyer friends filed a petition in Bombay High Court in March 2018. We were lucky as our petition was tagged with another petition and which was in final stages of hearing. The Bombay High court asked for debris to be removed twice in April 2018 after inspection by Forest department on our complaint.
In November 2018 the decision came in our favour with Bombay High Court scrapping the whole project of Residential towers & golf course on these wetlands and ordering local authoritiesto protect all wetlands & lakes of Navi Mumbai. Our biggest challenge is lack of awareness in citizens about importance of these wetlands, mangroves etc. and also citizens right to these natural resources. Hence we started organizing Run for flamingos on World Wetlands Day from 2019 which is growing in number & scale with each year.
This year we had a virtual run on World Migratory Bird Day i.e on 10th October 2020. The other challenge is attitude of local planning authority CIDCO which denies existence of any wetlands in Navi Mumbai in violation of Bombay High Court & Supreme Court orders. Even when the matter is pending before supreme court the builder once again started cutting trees in the same area in January 2020 and managed to cut more than 700 trees. The matter got so much attention in media that state environment minister stopped the work and called us for a meeting. In the meeting environment minister promised to protect these wetlands and declare this area as a flamingo sanctuary. The forest department is also moving in the same direction. This shows power of citizen awareness. If every citizen becomes vigilant towards environment in their area we will be able to protect them from destruction. Declaration of Aarey as forest is another example of roles played by citizens in environmental protection.
Story and Photo credits: Sunil Agarwal